One More Day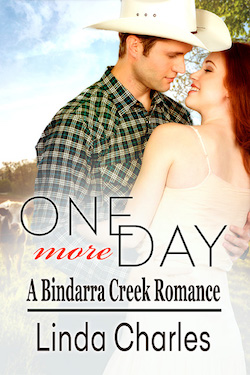 A Bindarra Creek Romance
Sometimes it's good to go country…
Local grazier Matt Stirling's life is about to change.
He's Mr Reliable with his best mate and the town he loves. For Matt love has never been an option and flings are overrated. After a teenage dare went wrong, Matt lives by a personal promise to help his mate. And then fun-loving, opera singer, Kate Martin arrives to create a regional schools choir. With her plans for the children in mind she pushes her way into his life. As he teaches this sexy international star about living in the country she is making him desire things he shouldn't, and things he feels he doesn't deserve.
For the first time in her life, Kate can be Kate without a string of advisors monitoring her every move. She's been a good girl for too long and wants to be herself. When she thought of country living, she didn't have someone like Matt in mind, with his lean hard body and winning smile.
It's a clash neither were prepared for – when city meets country.